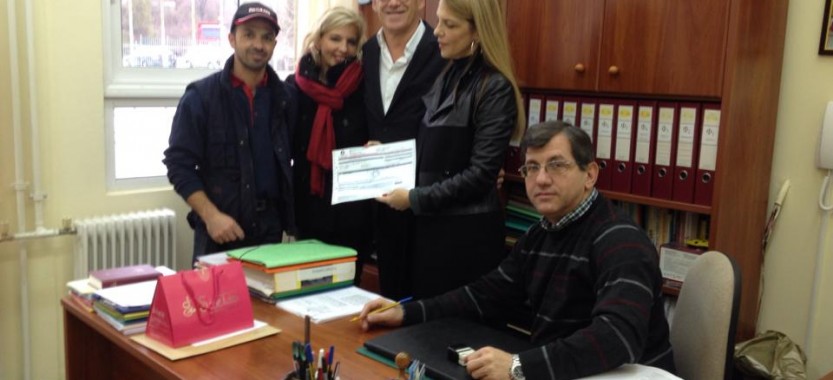 Fuel for Schools, what is it all about ?
September 23, 2015

|

By Jeremy

|

no comment

|
In the context of the economic crisis that affects Greece since several years, it appears that hundreds of schools, particularly in the North of the country, do not have the means to purchase fuel to heat themselves during the winter. This situation is extremely preoccupying as these regions often suffer from very heavy winters (this was the case in 2014-2015). These are most often mountainous regions, and public authorities are currently incapable of remedying to the situation.
As a consequence, the non-profit association "12 Hours for Greece", which aims, through the organisation of cultural events, to support organisations in Greece in the field of education, health and the fight against poverty, has launched since the beginning of 2015 "Fuel for Schools", a project aimed at amplifying significantly the 2014 results, which had enabled to heat 11 schools, representing over 1.500 children. The schools were located essentially in the Evros region (along the Turkish border), as well as primary schools in Xanthi and Florina, two regional capitals in the North of the country.
The fundraising is done entirely by the association, and the distribution of the fuel, for its part, is organised in partnership with the International Foundation for Greece, which specialises in collecting money to purchase fuel and ambulances for the more remote villages and islands of the country. Every donation, whatever its amount, is duly reported on the Foundation's website (www.if-gr.org)..
The association "12 Hours for Greece", through the Fuel for School project, has two main objectives :
–           On the one hand, to combat poverty, by allowing thousands of children, as well as their teachers, to benefit from milder studying conditions (contacts on the ground show that many children do not even go to school during the coldest moments if the schools are not properly  heated). This absenteeism is extremely preoccupying. The fact of accommodating children in non-heated schools also reinforces considerably the risk of illnesses.
–           On the other hand, to allow, in towns and villages that are particularly affected by the crisis, and do not benefit from the positive returns of tourism, the establishment of contacts, which in some cases can become informal twinnings between the Greek villages and organisations based in Belgium (or elsewhere), and to enable thereby the development of additional actions, according to the specific needs of each school, such as the delivery of clothes, books or medicaments.
The mobilisation around the Fuel for Schools initiative is beginning to bear fruit. As an example, the municipality of Ixelles was the first to agree on a twinning with two primary schools. This positive start enables us to hope that other municipalities, media, sport clubs or other associations will do the same.
Now, it's up to you to decide ! Donate now. Many thanks in advance on behalf of the Greek children!