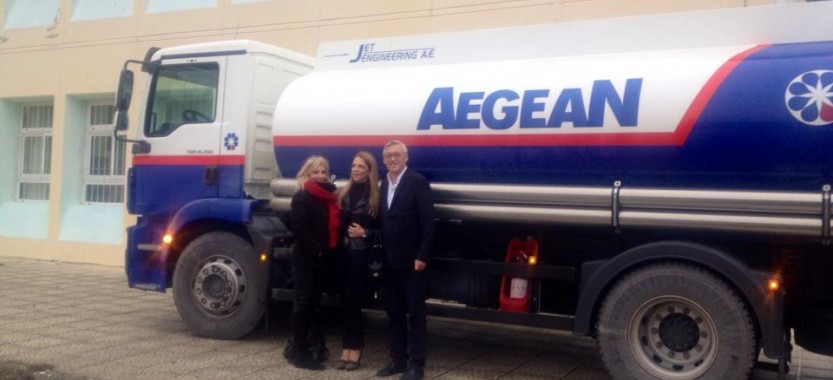 List of selected schools for FUEL for SCHOOLS 2015
September 23, 2015

|

By Jeremy

|

no comment

|
Dear friends and donors, yuo will find below a list of 50 schools that need yuor help ! If you have family or friends in these regions, yuo can select the schools that you want to help. Just let us know by contacting us (joseph.jamar@ec.europa.eu) ! We will maybe not be able to help all schools on the list, but we will make a balanced selection, early December, based on the location and school level.
The fuel deliveries wil start in December 2015.
A million thanks to all for your generosity !
| | | |
| --- | --- | --- |
| Prefecture | Area | Education level |
| Evros | Soufli | 1st Primary School |
|   | Kyprinos | Junior High School |
|   | Vyssa | 1st Primary School |
|   | Didimoticho | Senior High School |
|   | Didimoticho | 4th Primary School |
|   | Didimoticho | Vocational Training School |
|   | Metaxades | Primary School |
|   | Avra | Primary School |
|   | Tychero | Senior High School |
|   | Tychero | Junior High School |
|   | Lavara | Kindergarten & Primary School |
|   | Dikaia | Junior and Senior High School |
|   | Feres | Junior High School |
|   | Dadia | Kindergarten & Primary School |
|   | | |
| Florina | Florina | 1st Primary School |
|   | Florina | 3rd Primary School |
|   | Vevi | Primary School |
|   | | |
| Drama | Nevrokopi | 1st Primary School |
|   | Nevrokopi | Junior High School |
|   | Nevrokopi | Senior High School |
|   | Kato Vrontou | Primary School |
|   | Vathytopos | Kindergarten & Primary School |
|   | Paranesti | Kindergarten & Primary School |
|   | | |
| Xanthi | Stavroupoli | Primary School |
|   | | |
| Kozani | Mavrodendri | Kindergarten & Primary School |
|   | Drepano | Primary School |
|   | Pontokomi | Primary School |
|   | Agios Dimitrios | Primary School |
|   | Akrini | Primary School |
|   | | |
| Voio Kozani | Neapoli | Junior and Senior High School |
|   | Neapoli | Primary School |
|   | Galatani | Junior High School |
|   | Galatani | Primary School |
|   | Eratira | Primary School |
|   | Pentalofos | Primary School |
|   | Tsotyli | Primary School |
|   | Tsotyli | Junior High School |
|   | Vatero | Kindergarten & Primary School |
|   | Livadero | Junior High School |
|   | | |
| Eordaia Kozani | Anarachi | Primary School |
|   | Anatoliko | Junior High School |
|   | Anatoliko | Kindergarten & Primary School |
|   | Foufa | Primary School |
|   | Messovouno-Komnina | Primary School |
|   | Pyrgoi | Primary School |
|   | | |
| Kastoria | Kastoria | 1st Primary School |
|   | Kastoria | 2nd Primary School |
|   | Argos Orestiko | 1st Primary School |
|   | Argos Orestiko | 2nd Primary School |
|   | | |
| Kavala | To be determined | To be determined |
|   | | |
| Thassos island | To be determined | To be determined |
| | | |