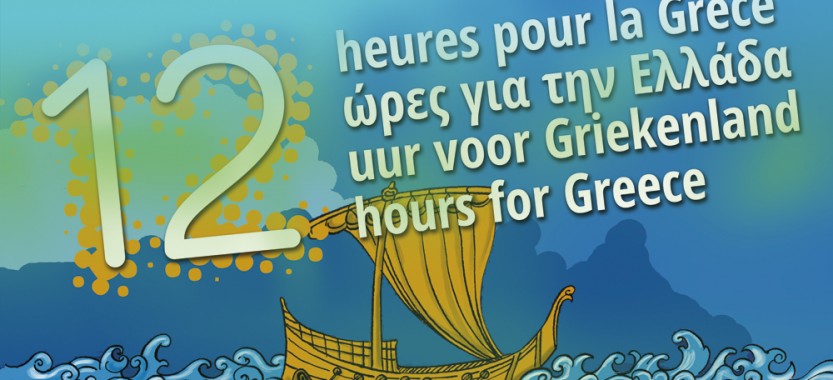 12 Hours for Greece
September 22, 2015

|

By Jeremy

|

1 comment

|
12 Hours for Greece is a charity organisation established in 2012 by a group of European citizens living in Belgium. The objective of the association is to collect, through the organisation of cultural events, funds to assist organisations in Greece operating in the fields of education, health and the fight against poverty. The three first editions of 12 Hours for Greece, which gathered over 5,000 people, and allowed to collect over 35,000 €, which were entirely transferred to the beneficiary organisations, namely : Hamogelo tou Paidiou (the Smile of the Child, an institution dealing with children in distress, in 2012;  Médecins sans Frontières (Doctors without Borders), Make a Wish-Greece and ELEPAP, the Hellenic Association of Handicapped Children in 2013; and the International Foundation for Greece, for a project aiming at purchasing fuel to heat schools in Northern Greece, in 2014. Given the critical living conditions of the populations in many remote villages of the country, and the huge amount of needs, 12 Hours for Greece decided to renew its support for the school project in 2015, by enlarging it to a whole range of new partners (municipalities, media, sport clubs,  charity organisations etc).
The association operates on a strict voluntary basis, each collected euro being immediately and entirely transferred to the Foundation in Greece. The partnership which was established with the Foundation in 2014 and 2015 ensures that the objectives of the project are duly met, and that the collected money reaches directly the beneficiary schools. The list of donations is available on the site of the Foundation. The President of the Foundation, Mrs. Aspasia Leventis, personally accompanies each delivery.
From 2012 to 2014, 12 Hours for Greece organised a yearly festival of Greek culture, consisting of readings of ancient texts, debates, dances, concerts, tasting of Greek products and presentation by young Greek producers of their food products. The concerts brought together some of the most prestigious names of the Greek classical and popular music, such as Lavrentis Machairitsas, Dyonisys Savvopoulos, Aleka Kannelidou, Alexandra  Gravas, Dimitra Papiou, Miltos Paschalidis, Panos Mouzourakis, Yannis Zouganellis, Petros Bouras, Panos Margaris, as well as actor Georges Corraface and the Belgian singer Salvatore Adamo.
In 2015, the association organised a concert in Liège, to celebrate the 90th birthday of Mikis Theodorakis, and will organise on 27 October in the Halles de Schaerbeek in Brussels a Belgian Première of Café Aman, a tribute to Rebetiko, the Music of the Greeks.